Jane Austen
Jane Austen's Dancing Years Tour
The Jane Austen's Dancing Years Tour is a wonderful day out of London. Just a 45 minute train ride from Waterloo to Basingstoke, with trains every fifteen minutes or so. The National Rail website will help with a timetable. You will be met at Basingstoke Station at 10 am by Phil, who can be identified easily as the only man carrying a Jane Austen book, and if there are other men carrying Jane Austen books here is a photograph so you don't go off with the wrong man.
During the morning we drive to discover "the cradle of her genius", exploring the picturesque villages that Jane knew, as well as her birthplace and her father's church at Steventon. We see the country houses where she danced, fell in and out love and trace the people she mentions in her letters in ancient churches. It was this landscape that informed Jane as a girl, young woman and author of Pride and Prejudice, Sense and Sensibility and Northanger Abbey.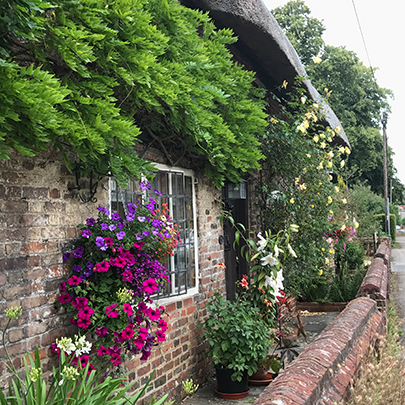 If you read Claire Tomalin's excellent biography, "Jane Austen – A Life", your experience of the tour will be heightened as there is a map of where we go in the frontispiece.
Our tour covers chapter eight of Claire's book, in that we spend three hours in the morning exploring the countryside where Jane spent her first twenty five years.
Lunch is in a country inn or the cafe opposite the Jane Austen's House Museum. Please book tickets on-line in advance for an arrival time of 2.30 pm.
In the afternoon we enter the Museum itself to see where Jane spent her last eight years revising and writing the novels and allows you time to reflect on her life, enjoy the tranquillity of her garden or browse the excellent museum shop for books and souvenirs.
Time and weather permitting we may be able to visit the graves of Jane's mother and sister and see Chawton House.
You will leave the tour knowing what influenced Jane as a writer. Revisiting the books or films will now have much more meaning. It's a full and immersive Jane Austen day, and an entertaining and informative way to see her neighbourhood. An ideal gift for a Janeite. We return to the station for your train back to London at about 5pm.
For your comfort our tour vehicle is a VW Touran which can easily accommodate 4 passengers, five if someone is agile...
To add depth to your experience of her life, Phil is the author of Twelve Hours, a play about Jane's extremely short engagement. Copies are available directly from the Phil, price £9.99 + P&P. We accept most major debit/credit cards.
Please click on the Trip Advisor icon at the foot of the page to read reviews of the tour. We are proud to be featured in the Hall of Fame after many years of Excellence Awards.