Jane Austen
Jane Austen's Dancing Years Tour
The Jane Austen's Dancing Years Tour is a wonderful day trip out of London.
During the morning we discover "the cradle of her genius", exploring the picturesque villages that Jane Austen knew as well as her birthplace and her father's church at Steventon. We see the country houses where she fell in and out love and trace the people she mentions in her letters.
Phil gives a commentary on the social and cultural life of the time and relays the gossip and stories Jane Austen knew about her neighbours that clearly echo in her novels. The tour reveals the author's underlying inspiration especially for Pride and Prejudice, Sense and Sensibility and Northanger Abbey.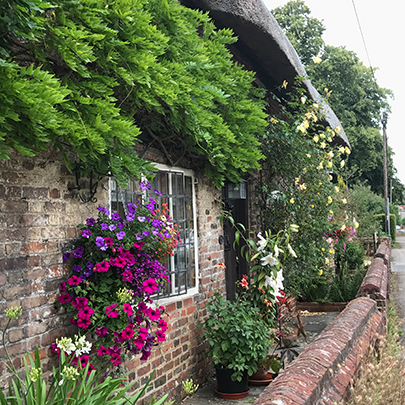 Lunch is either at a traditional country inn, often the pub voted Best in Hampshire who locally source and forage their supplies, or we may visit Chawton House, once owned by Jane Austen's brother, for a simple meal in a medieval kitchen.
In the afternoon we visit the Jane Austen's House Museum to see where she spent her last years revising and writing the novels and allow you time to yourself to reflect on her life, enjoy the tranquillity of her garden or browse the excellent museum shop for books and souvenirs.
We will also visit the family graves and see Chawton House if not visited earlier.
You will leave knowing what influenced Jane as a girl, an author and a young woman. Revisiting the books or films will now have much more meaning. It's a full and immersive Jane Austen day, and an entertaining and informative way to see Jane Austen's neighbourhood.
Please click on the Trip Advisor icon at the foot of the page to read all reviews of the tour. We are now in the Hall of Fame after many years of Excellence Awards.
Brochures
Download our brochure in Adobe Acrobat format (.pdf).
English
(154Kb)
Deutsch
(160Kb)
Francais
(160Kb)